Madeleine Berg, @supernutritionist
A delicious Mediterranean inspired salad with quinoa and chickpeas
I was inspired to create this recipe when I was hired by @supplyhouse to create a program called, "Test Your Nutrition IQ", along with a cooking demo.  Clients often ask for, "Meatless Monday" recipes.  So I decided to combine the two ideas when I created this Mediterranean inspired quinoa salad.  I have demoed this recipe a few times since.  I'm usually in a conference room, so I prep the chickpeas and quinoa at home and do the chopping and assembling during the demo. I always tell my audience, " Now that you see how easy it is, make it ahead, and bring it on the road, to work for lunch or enjoy at home."  Hope you love this recipe as much as I do!
Recipe
Prep time:  35 minutes
Cook time: 20 minutes
Hint:  Cook quinoa ahead of time, so it can cool to room temperature.

Shine On

And Glow

Kitchen
Ingredients
For The Salad:
1 1/2 cup uncooked quinoa
3 cups water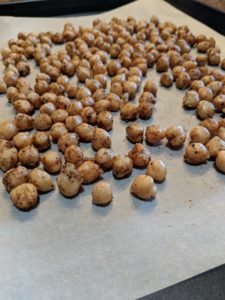 1 15.5 oz can chickpeas, rinsed & drained
1 TB olive oil
1/2 tsp each, cumin, cayenne pepper, chipotle paprika, coriander, garlic powder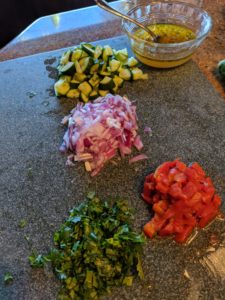 1/4 cup roasted red pepper, chopped
1/3 cup red onion, chopped
1 cucumber, chopped
1 bunch parsley, chopped
salt, pepper
For The Vinaigrette:
1/4 cup olive oil
1/2 cup apple cider vinegar
1/2 fresh lemon, squeezed 1 tsp lemon zest
1 tsp marjoram
1 clove garlic, minced
Preheat oven to 450 degrees
In a small bowl, combine cumin, cayenne, chipotle paprika, coriander, & garlic powder
Place quinoa and water in medium saucepan. Bring to a boil, reduce to simmer and cook partially covered until liquid is absorbed, about 20 minutes. Cool to room temperature. (Hint:  If you're short on time, place in the fridge to cool down faster.)
While quinoa is cooking, pat chickpeas dry and toss with 1 T. olive oil, season with spice mixture.
salt and pepper to taste
Roast in a single layer on a baking pan for 15 -20 minutes.
Vinaigrette Instructions:
Whisk all ingredients in a small bowl to combine.
To assemble salad, combine all the ingredients and toss with vinaigrette. Season with salt and pepper to taste.
Shine On And Glow Kitchen 👩‍🍳Tips: 
We made this in our kitchen and it was D.E.L.I.S.H! We didn't have parsley so we substituted cilantro…soo good! We only had 1 cup of quinoa on hand so we halved the Vinaigrette Recipe and that worked great. We used regular paprika, which took down the heat a bit.  Play with the spices and add ins. This recipe is very tweak-able. Some great toppings we tried: crumbled feta cheese, avocado and a sunny side up egg. Comment on this post, we would love to hear your thoughts and tweaks!