San Diego is such a popular destination that it can feel difficult to find quiet spots for reflection. We are lucky there are some real hidden gems to in inspire us! Sometimes crowded beaches and traffic can make it a hassle to go anywhere outside your own neighborhood. Still, it's important for us locals to have some insider spots where we can go to escape the crowds. I've rounded up some of my favorite tucked-away corners of San Diego County for you to explore. If you love them as much as I do, let's make sure to keep them a secret, shall we?
Discovered and Photographed by Natalia Robert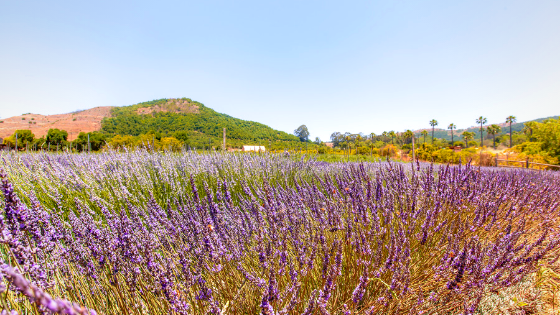 This private lavender farm is a dream! If you time it right, you'll see big fields of tall lavender as you drive up to the main entrance. There's a gift shop near the entrance that offers all sorts of goodies, many of them made right on the farm. Keys Creek also offers high tea service and the occasional fun class like soap-making with seasonal ingredients. The grounds themselves are lovely to walk, with two older buildings that are often used as backdrops for weddings. The property isn't very large, but it's a wonderful escape for a sunny day.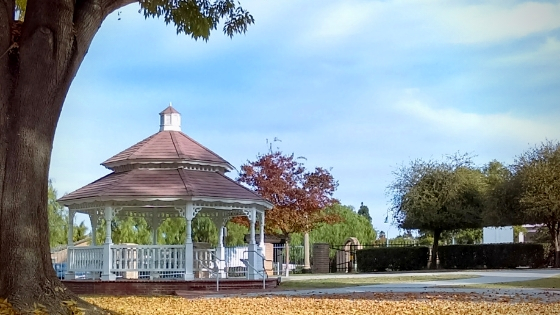 Another North County jewel! Heritage Park, in Oceanside, is next door to the mission, which makes it a perfect add-on for a full afternoon of exploring. This small tucked away park offers a mix of historic buildings that have been relocated for preservation. In the center of the small park is a lovely gazebo that, on some days, softly plays classical music. There are beautiful large trees offer shade in the summer and fill the lawn with leaves in the fall. When there isn't a wedding taking place, the park can mostly be found empty of visitors. Heritage Park is also home to the Model Railroad Museum, housing a handmade miniature train that runs through landscapes replicating parts of California. Hours of operation for the park are a bit limited, so plan accordingly!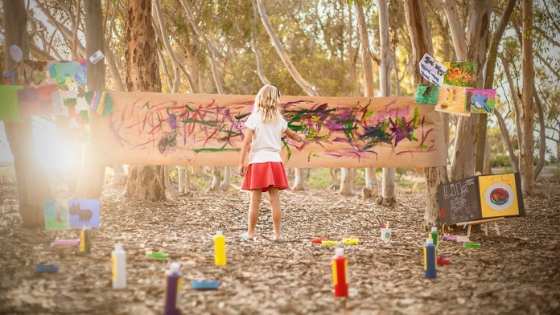 3. La Jolla Shores, Eucalyptus Grove
It can seem impossible to find a spot that feels woodsy in San Diego, but there's a magical area of eucalyptus trees in La Jolla that comes pretty darn close! From the UCSD campus, you take La Jolla Shores Drive and pass by some neighborhood homes. On the edge of the neighborhood, just before you begin the downhill drive towards the beach, you'll see a grove of eucalyptus trees. Here you can walk through the small woods, take trails for breathtaking unobstructed ocean views, and enjoy the silence of nature. The golden light of late afternoon is especially magical, with the sun struggling to streak through the branches. I recommend parking on a side street in the neighborhood, where there's typically plenty of space available.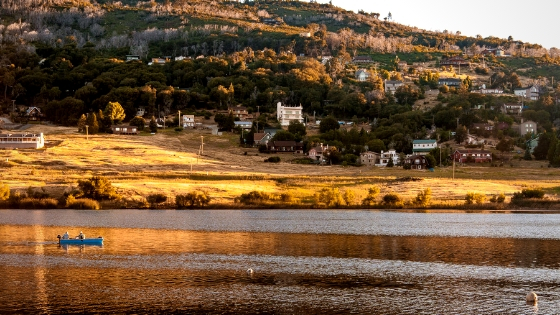 One of my favorite routes to drive in all of San Diego County is Route 79, starting at Route 8 and going all the way to Julian. Along this drive is Lake Cuyamaca, a small and peaceful lake tucked amongst the mountains. In the winter you'll find just enough snow to have a friendly snowball ball fight, while the summer is perfect for camping in its handful of campsites along the edge of the water. The lake is set up to cater to activities like boating, camping, and fishing. Luckily, the crowds are small and rare. Look for the nearby diner, which has parking lots to either side of it. The lot behind the diner offers easy access to walk the dock and take in the view, while parking in the side lot offers access to picnic tables and trails away from crowds. The trails heading south, are especially perfect if you want to take in a serene lakeside field.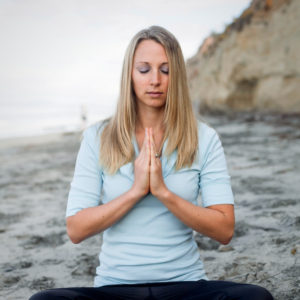 Finding a beach that isn't full of crowds year-round can seem like an impossible task, but there are still a few quiet stretches of sand to explore. One of my favorites is Stone Steps Beach in Encinitas. Moonlight Beach and Swami's are lovely but often crowded. Stone Steps, though, is a small stretch of beach in the neighborhood directly north of Moonlight. Find the entrance at the corner of Neptune and El Portal, with access being limited to just one big set of stairs (so pack light!). Stone Step's small and private vibe, makes it the ideal spot for quietly reflecting and gathering inspiration.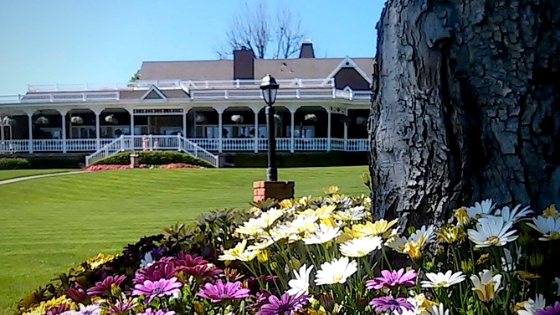 6. Grand Traditions Estate and Gardens
This pristine property nestled in Fallbrook is the perfect spot for finding nature and pampering in one spot. The grounds are perfectly manicured and lush. There's a pond, a waterfall, trails, and lots of sitting areas. There's a small fee for grounds access, but it can be well worth it to spend an afternoon soaking in the beauty. The impeccably restored Victorian home houses an event venue and an on-site restaurant, The Veranda. The Veranda offers luxurious brunches, lunches, and desserts, as well as a boxed lunch that you can purchase and eat on their grounds at your leisure. If you want to be inspired but aren't up for "roughing it", Grand Tradition might be the perfect fit.


Wrapping It All Up + Bonus
We San Diegans appreciate our beloved landmarks, but sometimes we need an escape from the crowds. Finding special outdoor spots to re-energize and fill ourselves with inspiration is crucial to maintaining our busy pace in these technology centric times. The spots listed above are ideal for finding inspiration and peace, but there are lots more out there just waiting to be discovered by you. So get out there and explore!
Looking for some ideas outside of San Diego?
Here are 2 of my favorite spots for a day trip or an overnight getaway.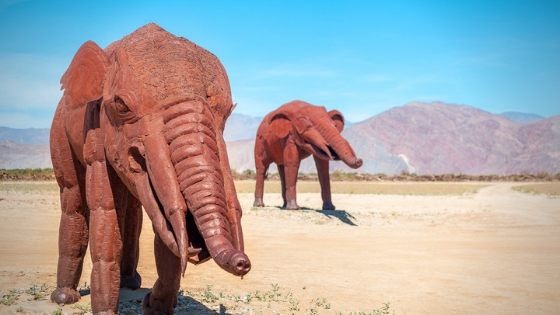 This unincorporated community is a great weekend getaway! Its Dark Sky designation means that it's got extremely low "light pollution" and is considered one of the best areas for start-gazing. Pop into the ABDNHA store on the main street to see if they have any star-gazing activities or maps, then book a local room for the night so you can see the sky light up like magic after dark. In the daytime, be sure to check out Galleta Meadows, which houses a large collection of Ricardo Breceda's amazing metal sculptures. The summers can be extremely hot, but late fall, winter, and early spring are all fantastic times to visit. If you happen to go in late winter, check for the annual flower blooms in the area that brush the landscape with bright colors.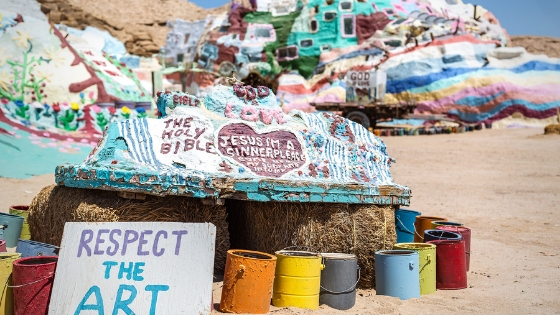 If you've ever dreamed of walking through a Dr. Seuss book, this is your chance! Salvation Mountain was created by Leonard Knight and continues to be maintained by local artists. It's a man-made mountain that is lovingly painted with bright colors and inspiring words about God and love. Entry is free, although donations are appreciated for maintenance of the landmark. There's an unfinished portion that you can walk through, with a tree trunk and found objects creating a maze-like structure. This is a fantastic spot for getting energized by another artist's vision. Be sure to take extra water and snacks with you, as this spot is very off the beaten path and can get quite hot for much of the year.