As a wellness and lifestyle blogger, I was really excited to experience all that "in Goop Health," a wellness summit in Los Angeles, had to offer. My takeaways far exceeded what I thought the experience would provide. I laughed, I cried, and I learned. And surprisingly, after one day, I had a mini transformation. Here are my top 5 takeaways that may surprise you.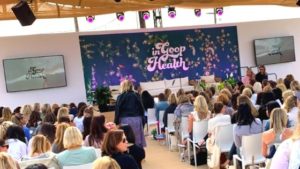 But First, What is "in Goop Health" All About Anyway?
If you were to attend "in Goop Health," do you think you would be learning about the latest trends in health, beauty, and wellness all while having fun? You would be right.

Would you think you would be learning about the personal journeys of many well known presenters, including authenticity, truth, blockages, major life pivots, and more? You would also be right.
Would you think you might leave with new insights into yourself that would clarify and possibly change the path you are on? You might. It certainly happened for me. That all sounds kinda serious, so I'll break it down. Let's start with some of the more "Goopy" moments, as Gwyneth Paltrow (GP) likes to call them.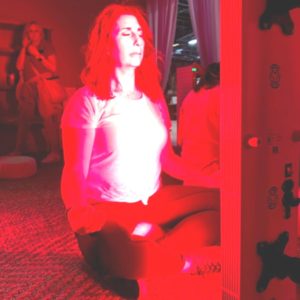 1. Singing Plants, Sound Healing, and Psychics
When I first arrived at the Rolling Greens Nursery in downtown L.A., check-in was easy and organized. I got there a little early to check out Goop Hall, which included wellness stations, food, and shopping. The setting was beautiful and, luckily, so was the weather. Outside you could get a B-12 shot and VIE ear seeds (24K Gold magnets that relax and regulate your body). Inside there were plenty of delicious, healthy foods and beverages, including sprouted grains, truffled tuna, Kombucha, and heavenly donuts adorned with flowers.
At the opening ceremony we listened to music created from the biorhythms of plants. We explored how our energetic interaction with the plants changed the music. We were also treated to a crystal bowl sound healing which was beautiful and calming.
Later in the day I went to a session called "Psychic Toolbox" in the "Intuition Studio," which was taught by Anna Raimondi. There were 50+ people in the class, and Anna spent the first half using her psychic abilities to give messages to a few attendees. It turned out that my grandmother, Mama Rose, and my mother-in-law, Patricia, both had loving messages for me. Anna then taught us about using our own powerful intuition. We were asked to sit back to back with a stranger and to let ourselves be open to receiving messages. My partner and I were shockingly accurate in what we intuited about each other. We ended up talking for another 15 minutes until we were politely asked to leave. We felt it was synchronistic that we met, and we plan to keep in touch.
2. Philosophical Insights
During the "Morning Fireside," GP interviewed Elizabeth Gilbert, author of Eat, Pray Love, and, more recently, Big Magic. Gilbert covered a lot. She spoke about fear, creation, grieving, speaking your truth, and healing. Gilbert started by talking about how we need to have empathy and understanding for our fear, as it is a natural part of the creative process. She also spoke at length about creativity and our universe. Gilbert believes that, "when you are in creation itself, you are in alignment, and when you are not creating you are pushing up against the power that wants you to create." She was also careful to point out that being creative doesn't necessarily mean you are artistic. Gilbert added: "We can also be creative by creating ourselves."
In a powerful moment, Gilbert also spoke about grieving and losing her life partner. She discussed how we are culturally trained to say we are okay when we aren't. Gilbert spoke about how she recently started telling people when she is not okay. She encouraged us all to start sharing our truth with people and explained how it might lead to resolution and healing. She also mentioned with a smile that she carries around gold stars and gives them to herself. If you get a chance, you should hear Elizabeth Gilbert speak in person.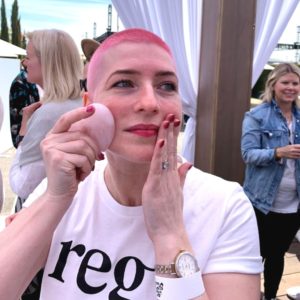 3. The Goop Glow Is Not Just About Exfoliating
When attending "in Goop Health" in L.A., there were a few class offerings in each category: Beauty, Body, Energy, Food, Intuition, and Mind. I wanted to balance my inner and outer glow, so I chose sessions where I moved my body, worked on my outer beauty, and exercised my intuition.
I really enjoyed The Trifecta class offered in the Beauty Studio. We learned about facial massages, which help drain toxins and prevent wrinkles, scalp massage techniques that may stimulate hair growth, and Ayurvedic beauty and self-care.
I also took some time out to chill and amp up my inner radiance when I relaxed on a Healthyline Rainbow Chakra Mat. It's heated and covered with 7 different natural gemstones. The goal is to maximize your comfort and to connect you with your spiritual energy. When I arrived at the station three other women were sound asleep in the busy Goop Hall!
I also popped in to the the Joovv room and meditated in front of a red light device. It was relaxing and left me with a peaceful feeling. According to Joovv, "Red light therapy has been studied and tested across hundreds of peer-reviewed clinical trials, with overwhelmingly positive results for skin health, collagen production, physical performance & muscle recovery, sleep, joint pain, inflammation, and a lot more."
After all of this, I am still glowing, (moisturizing and exfoliating with products from my Goop gift bag).
4. A New Take On Manifesting Your Best Life
I strongly believe in the power of manifesting what you want in your life. I started when I was a child before "vision boards" and "The Secret" were common terms in our vocabulary. In between my studio classes, I was lucky to hear Lacy Phillips speak about her unique take on how to manifest.
At first I was surprised, because everything she spoke about was very different from what I had learned or practiced in my life. But as I listened to her speak I gained a new perspective. Phillip's three part strategy to unlocking manifestation is:
Unblock your limiting beliefs

Look for and engage with people ("expanders") who are already living the life you wish to live

Identify and pass the tests that will tempt you to settle and not allow space for what you want to manifest
Although I still personally believe in vision boards and my process, which I call MotifestingTM, I plan to start learning more about her program (here).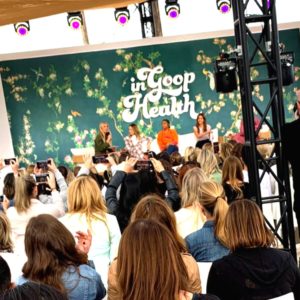 5. Hollywood Women Lift Each Other Up
The Day ended with a fireside chat in which GP led a panel including Jessica Alba, Taraji P. Henson, Busy Philipps, and Olivia Wilde. That's quite a line up of celebrities, and you might have expected light actor chit chat, but you would be wrong. Each of the women on the panel got quite personal; they spoke eloquently about hardships they had suffered and major pivots they have taken on their respective journeys. I was especially moved by Taraji P, Henson and her willingness to open up about mental illness in her family and her passion to end the stigma surrounding mental illness in the black community. (Taraji's Foundation)
All of the women on the panel spoke with great passion about the importance of lifting each other up and helping each other. They spoke about hiring and promoting women in their businesses. Their determination was strengthened by the sexism and #metoo moments they had experienced in Hollywood.
Its A Wrap
I admire GP and the company she has created. I serendipitously brushed passed Paltrow as she was getting ready to take the stage for the opening ceremony. She looked great, as you would expect, and even stopped to take a picture with a couple of attendees. But then she quickly switched into all business and focus, as she was about to kick off the big day we were all anticipating. It is obvious she cares.