Grandma Shasha's Chicken Soup Recipe is a Hearty Soup Inspired By Many Generations of Eastern European and Jewish Grandmothers!
Recipe
Servings
: about 15 bowls (leftovers may be frozen)
Stock: 15 minutes
Soup:  20 minutes
Stock: ~90 minutes
Soup:  ~40 minutes
Ingredients: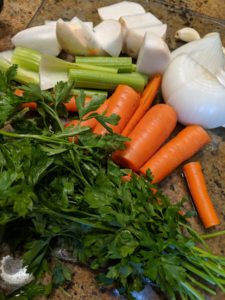 For Chicken Stock:
1 whole chicken (about 5 lbs)
l Large yellow onion, quartered
2 celery stalks cut in thirds ( keep leaves on)
1 small handful of parsley
Tablespoon of salt (or more to your taste)
Optional, 1-2 tablespoons of apple cider vinegar
For Soup:
1 ½-2 lbs. of white mushrooms cleaned and sliced
4 carrots sliced in bite sized chunks
1 ½ Cups Bob's Red Mill Vegi Soup Mix
Optional 1 can of rinsed white beans
Shredded chicken (you can use chicken from stock or rotisserie)
Salt and pepper to your taste.  
Directions:
Use an 8 quart pot with a lid
Clean out chicken cavities and place in pot. Add

water to cover the chicken and fill the pot within 2-3 inches of the top
Add bay leaf, salt and apple cider vinegar (if using)
Bring to a boil (with cover not fully on)  and let cook for one hour, skimming foam off the top as you go.
Once chicken is cooked, remove the whole chicken from the pot and take meat off the bones to shred for later. If you have a lot of time you can add the bones back into pot and let the stock boil another hour to create more flavor and add more nutrients to the broth.  
Once chicken stock is done, remove the bay leaf and chicken/bones.
 Add the 

stock

vegetables to the pot.  Boil vegetables until they are very soft.
Once the vegetables are cooked and soft, remove using a slotted spoon and put them into the bowl of a food processor or high-powered blender. Process until fully pureed.
Add Bob's Red Mill Veggie Soup Mix into the stock bring to boil and then simmer for 20 minutes.
After 20 minutes,

add puree and the rest of the soup ingredients (mushrooms, carrots, beans, shredded chicken) into the pot
Bring to a gentle boil and simmer for another 20 minutes.
Season to taste with salt and pepper
Shine On And Glow Kitchen 👩‍🍳Tips: 
You can freeze extra soup. I portion them into freezer bags. If putting smaller portions into a bigger tray or bag, separate with paper towels so they don't stick together. 
Please comment on this post, we would love to hear your thoughts and tweaks!