Carsyn Neille Davis
"We Never Got to Say Goodbye"
On June 3, 2013, Kia and Jeff Davis rushed their daughter, Carsyn Neille, to the emergency room believing their 4 month old baby had a serious condition. "My husband and I were convinced that Carsyn was suddenly blind and no-one would believe us", Kia said. Eventually, a nurse in the Emergency Department finally took notice and realized the Davises were right. Doctors quickly discovered that Carsyn had a large, metastasized brain tumor and she was rushed to emergency surgery for a biopsy. Tragically, Carsyn passed during the surgery. "Jeff and I were standing there in shock and disbelief. The two surgeons told us in an unemotional tone that our child had died.The anesthesiologist dropped to her knees crying out that she couldn't save her." said Kia. When recounting this story, Kia looked at me intently adding, "We never got to say goodbye." Obviously the pain of this moment lives just beneath the surface, becoming raw and palpable at the retelling.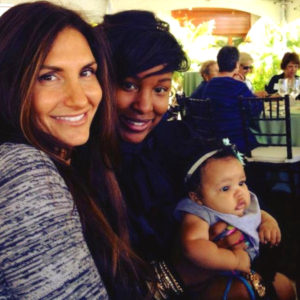 friend, Kia & Carsyn & at an auxiliary meeting
Kia Davis' Story
When I recently caught up with Kia Davis, we talked about her heartbreaking story, childhood cancer awareness and the foundation she created in memory of her daughter. Flashing back, Kia and I first met in the fall of 2010, when she joined our children's hospital auxiliary in San Diego. Our unit was raising funds for the hospital's Center for Cancer and Blood Disorders. At the time, Kia, had two young children, and ran her own children's clothing boutique. She joined the auxiliary as a way to connect and give back. In 2013, she gave birth to Carsyn Neille, a beautiful, happy baby, who became part of our unit. Kia brought her baby to meetings, where Carsyn was a source of joy to all of us, often being passed from lap to lap.
On May 30, 2013, there was a heartbreaking turn of events. Carsyn started having strange symptoms. "The night after her 4 month vaccinations, Carsyn seemed to have an extreme reaction. She couldn't hold anything down." said Kia. Starting that night and for the next 5 days, Kia and her husband went frantically back and forth to the pediatrician and the Emergency Department. They were treated as excitable young parents, and Kia was accused of being a "Google Mom". "On more than one occasion, Jeff and I sat for hours waiting for our daughter to be seen in the Emergency Department.", said Kia.
Since losing her daughter, Kia has heard many similar stories from other families in the community whose children have been touched by cancer. "Although I can sympathize with the hospital, that they have to run triage and decide fairly quickly who needs immediate assistance, as parents we need to trust our gut and advocate for our children when our instincts tell us something is wrong.", Kia explained.  There is always new cutting edge research when it comes to cancer treatment including medicine, environment and diet. "When facing a cancer diagnosis, reach out for help in your community, research, get second opinions. Fight for your child!", she exclaimed.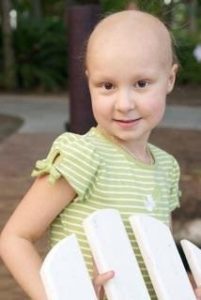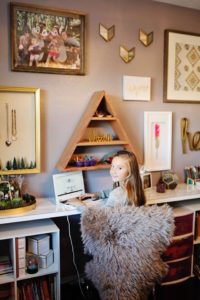 Kaeylin during treatment and later in her room by the Carsyn Neille Foundation
The Carsyn Neille Foundation: Designing Rooms to Thrive
After Carsyn passed, Kia wanted to find a way to honor Carsyn's memory and help others who had children diagnosed with cancer. In November of 2016, with 501(c)3 tax-id in hand, the Carsyn Neille Foundation was born. "Our mission is to support and comfort families affected by childhood cancer. We transform the children's bedrooms, creating a beautifully decorated non-toxic sanctuary which supports their 'thrivership', during and after treatment.", said Kia. The foundation was created three years after Carsyn's passing, but there wasn't a straight path to its launch.
Initially, Kia dove into the nonprofit and fundraising world by creating a clothing line at her boutique to raise money for the children's hospital. "I quickly learned that combining business and charity was not as straightforward as I thought.", said Kia. It was when she connected with another parent, JIll Chrapczynski, whose child was undergoing treatment for Acute Myeloid Leukemia that a more impactful approach started coming together.  Jill saw Kia's unstoppable passion to honor Carsyn and help others. "Jill also noticed that I helped many of my customers design their children's bedrooms. She pointed out that I should combine my design talent with my mission to help the children's cancer community and their families.", Kia added. Only one month later, the Carsyn Neille Foundation redesigned their first bedroom, for 10 year old cancer patient Kaelyn. Since launching the Foundation, Kia, her partners and volunteers have transformed 10 rooms, emphasizing sustainable, non-toxic and organic materials. "These rooms elevate the children's quality of life and help them not just survive, but thrive.", Kia added.
Looking Towards The Future
In 2019, Kia and her Board of Directors are looking to expand the mission of the Carsyn Neille Foundation. "We want to connect to more families with comfort kits, transform more rooms, and have a broader impact in the children's cancer community." Kia and her foundation are raising awareness through kid run lemonade stands, partnering with local children's hospitals and businesses, as well as public speaking engagements. "Working side by side with families in the cancer community, I've learned that every family seems to find an inner strength and a sense of hope. I've also realized my Foundation's voice can help spread awareness and strengthen connections within the community. ", said Kia.
Interested in Helping the Carsyn Neille Foundation?  Follow these Links:
Learn More about the foundation: http://www.carsynneillefoundation.org/
Refer families: http://www.carsynneillefoundation.org/refer-a-family/
Donate: http://www.carsynneillefoundation.org/give/